Videri is an end-to-end digital signage solution, purpose built for marketers and businesses who need to solve for the otherwise high cost, complexity, and design limitations of traditional displays and media players.
Founded in 2013, Videri was conceived from the needs of a large multinational organization who wanted to efficiently deploy digital displays in unique placements and locations where traditional digital would otherwise not fit. This multinational needed the ability to impact the moment of purchase decision with the right message, in the right place, at the right time. They needed digital where it would have business impact, and not just digital where its traditional clunky components and bulky TV screens could fit. Videri was challenged to create a solution that could also be easily deployed globally by an existing non-technical field sales organization.  The solution needed to be high impact, simple to install, scalable yet beautiful enough to fit into any brand design.  The Videri Digital Canvas was born. Box to wall in less than 15 minutes, we call it a Digital Canvas because it blends in, sits flush to the wall, is as simple to install as hanging a painting, and because it lets your message stand out.
Today, Videri Digital Canvases power some of the world's biggest brands with digital across retail, food & beverage, hospitality and corporate. Now on its 4th generation display, Videri powers digital messages in over 80 countries with more than 100,000 Videri Digital Canvases deployed globally.  
We hope you enjoy To Be Seen and learn a little more about Videri and our perspective on this incredible industry of digital displays and digital signage solutions.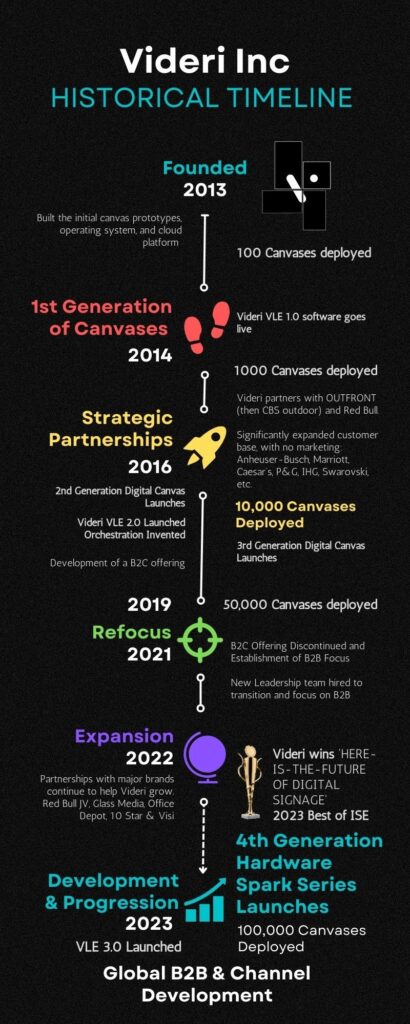 A walk down memory lane: Some of Videri's first installations.